Control box Info
My control box is simple to operate and the circuit is easy to understand.
Operation:-
1)Turn the key switch to the on position (green power LED will light)
2)Select the channel you wish to fire by plugging the lead in to the numbered socket on the box (if there is a circuit the red armed LED will light)
3)Press the fire button on the box and hold it down until the firework fuse is lit....Kaboom!
4)repeat steps 2 and 3 until all your fireworks have been fired.
This is assuming you have wired your circuits to the connectors on the back of the box in the respective channels 1 to 30.
Circuit description:-
One end of the fuse wire is connected to the negative terminal of the battery, the other end of the fuse wire is connected to the positive terminal of the battery but via a fire button and key switch.
When the key switch is in the on position and fire button is pressed total battery current flows through the fuse wire, thus making it get hot and setting light to the firework fuse....kaboom!
Please have a look at the circuit diagram below, you can add as many circuits as you want i've only drawn 5 in the example below, i've also added a power LED and an armed LED.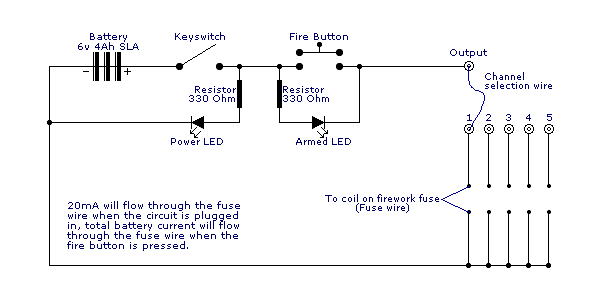 Note:- If you change the battery to a higher voltage (i.e. 12v) then you will need to change the value of the resistors to ensure only 20mA flows, the 20mA is to light the armed LED to show there is a completed circuit, any more than 20mA and you could warm up the fuse wire and set off the firework prematurely!!)